Coronavirus live news: Madrid lockdown looms; 34m jobs lost in Latin America
Over in Athens an outbreak of coronavirus in a nursing home has caused further alarm among health officials, who say they are increasingly concerned by the rising number of cases in the Greek capital, writes Helena Smith, the Guardian's correspondent in Greece.
As many as 45 people in a nursing home in downtown Athens tested positive for the virus with authorities rushing to transfer the infected men and women to hospitals in the city.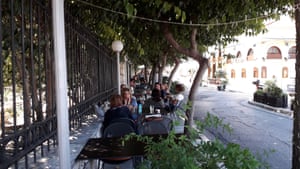 The operation came after Greece's top infectious disease expert professor Sotiris Tsiodras told reporters after visiting the care home (double-masked) "things aren't going well in Athens".
With the exception of three days over the course of the last 10, the caseload of confirmed coronavirus cases has exceeded 300. On Wednesday, the national organisation of public health, EODY, announced infections had risen by 354, bringing the total to 18,475. With 78 people in intensive care, officials have voiced fears of the pressures being placed on the public health system.
The Spanish government has warned the Madrid regional authorities that new measures to halt the spread of Covid-19 are obligatory as political intransigence threatens to undermine efforts to tackle the pandemic in the western European nation hardest hit by the virus, writes Sam Jones, the Guardian's correspondent in Madrid.
On Wednesday, 13 of Spain's 19 self-governing regions backed a plan to impose partial lockdowns on town and cities, allowing people to enter and exit affected areas only on work, school, or medical grounds, or for other pressing reasons.
Under the rules, the limited confinements will be imposed on municipalities of 100,000 people or more: if there are more than 500 cases per 100,000 people; if more than 10% of tests during the previous fortnight are positive, and if the proportion of intensive care unit (ICU) beds occupied by Covid patients is 35% or higher.
More than 1.5 million people in Merseyside, north west England, are expected to be banned from mixing in pubs and restaurants under new coronavirus rules due to be announced on Thursday, writes Josh Halliday, the Guardian's north of England correspondent.
Joe Anderson, the mayor of Liverpool, said he expected an announcement on further restrictions for the region on Thursday morning following a meeting chaired by Boris Johnson.
He said households were likely to be banned from mixing in public venues, as they have been for 2 million people in the north-east of England.
"We've already been told there will be restrictions and regulations put in place similar to Newcastle and the north-east, so we expect that, but potentially also the government might introduce even stricter measures so we've just got to wait now and see what they announce," he told BBC Breakfast.