Coronavirus live: 'no return to normal for foreseeable future,' says WHO; Latin America deaths pass US and Canada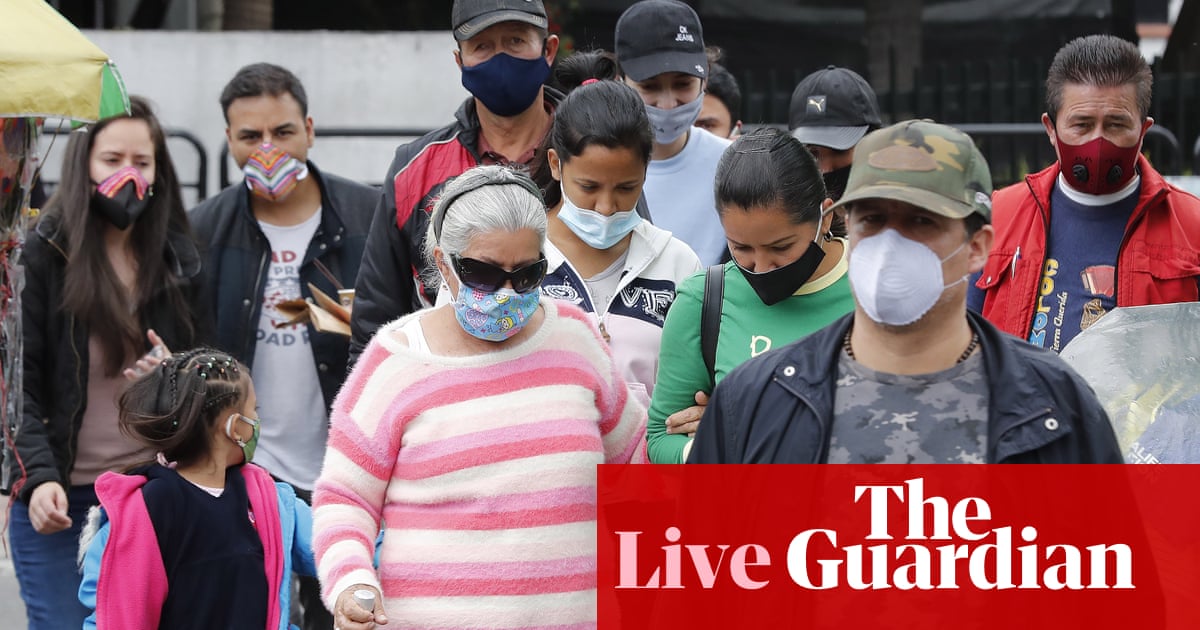 We've launched a new blog at the link below – head there for the latest:
There are more than 13 million coronavirus cases worldwide, an increase of 1m cases in 5 days, Johns Hopkins University data show.
The current total is 13,026,225. There have been 570,924 known deaths so far.
In Spain, Reuters reports that the Catalonian government has approved a decree giving it legal backing to place restrictions on the city of Lleida and its surroundings to stem a surge in infections, defying a judge's earlier ruling that such an order was unlawful.
After an extraordinary late-night cabinet meeting, the regional government said it would seek legal authorisation allowing it to limit people's movements, adding that on Tuesday it could confine Lleida area inhabitants at home.
Earlier on Monday, Catalonia's leader Quim Torra urged the 160,000 people living in an area where cases have increased to stay home, defying a court ruling which rejected a mandatory home confinement.
The contradicting orders sowed confusion and anger in the area. Businesses feared for their survival and the mayor said he was at a loss about what to tell people.
Spain, which has been one of the European countries worst affected by the pandemic, lifted a strict nationwide lockdown last month as it seemed to have come under control.
But, with dozens of new clusters, local authorities across Spain are scrambling to take new measures, confining small areas or making it mandatory to wear a mask in public.
"We don't agree with this court ruling. We don't accept it," Torra, who leads Catalonia's pro-independence regional government, told a news conference on Monday after Judge Elena García-Muñoz Alarcos threw out the planned mandatory lockdown.
The Kuwaiti cabinet has cancelled plans to construct the Al-Dabdaba solar plant, which would have provided 15% of the oil sector's needs of electrical energy, due to the pandemic.
The project, which was to be carried out by Kuwait National Petroleum Company (KNPC), was supposed to start operating in February 2021. But the proposal was extremely delayed due to bureaucratic procedures.
The lowest bid for the project was 439m Kuwaiti dinars (£1.1bn), Kuwait's Alrai newspaper said on 5 July.
Brazil has suffered 733 more deaths and confirmed 20,286 new cases inn 24 hours, its Health Ministry has said. That takes the country's total death toll to 72,833 people and its cumulative caseload to 1.9m.
More than 880 employees of private contractors running US immigration detention centres have tested positive, according to congressional testimony given by company executives.
Reuters reports that the heads of four companies – CoreCivic, The GEO Group, Management & Training Corporation (MTC) and LaSalle Corrections – that detain immigrants on contract with US Immigration and Customs Enforcement (ICE), registered the infections among its employees in response to questions from lawmakers.
ICE has reported 45 cases among its direct staff at detention facilities. Most of the employees at the privately run centres, however, work for private contractors and are not included in ICE's count, Reuters reported.
US lawmakers have raised concerns about the spread of the virus inside nearly 70 centres across the country. More than 3,000 people in ICE custody have tested positive for, though some have recovered or been released. Two detainees have died.
Making facing coverings in English shops mandatory had increasingly appeared an inevitable next step in the government's campaign against coronavirus after the UK's prime minister appeared wearing one on Friday, and mused about taking a stricter approach.
On Sunday, Boris Johnson's cabinet colleague Michael Gove denied this was the plan. He said it would be better to trust people's good sense.
By Monday, it was back to plan A.
My colleague Heather Stewart analyses Downing Street missteps and mixed messages:
Face masks will become mandatory in shops across England, UK government ministers are to announce on Tuesday, following mixed messages, a cabinet split and mounting pressure on the country's prime minister Boris Johnson to change public advice, Jessica Elgot, Heather Stewart and Vikram Dodd write.
New legislation will not come into force until Friday 24 July, however, raising concerns over the risk of coronavirus spreading over the next 10 days as lockdown is eased.
Enforcement, which will include a fine of up to £100 for non-compliance, will be down to police, though shop staff will be expected to encourage the policy, No 10 said.
The announcement is understood to have been rushed forward after Michael Gove, the cabinet minister, said on Sunday that masks should not be made mandatory, contradicting indications from the prime minister last week.
We reported earlier on efforts by the Trump administration to discredit the White House's infectious diseases expert Dr Anthony Fauci.
Donald Trump has now claimed to have a "very good relationship with Dr Fauci", while his press secretary Kayleigh McEnany denied that officials had shared opposition research with reporters.
Over the weekend, Trump aides told news outlets that Fauci, who has become the public face of the government's response, had made a series of 'mistakes' in his predictions.
An entire hospital in Mexico's southern Oaxaca state has been put in quarantine after 68% of its remaining staff tested positive, writes Analy Nuño in Guadalajara.
Doctors and nurses at the Macedonio Benítez Fuentes hospital in the town of Juchitán de Zaragoza held protests last week, calling for a lockdown after 120 of their colleagues were put under isolation after positive tests.
Following further testing of the remaining 249 staff on Friday, another 170 were found to have Covid-19. According to La Jornada newspaper, most of the infected staff members were asymptomatic and were told to self-isolate at home.
But, with only a limited staff, the hospital has been forced to suspend normal services, closing its outpatient clinic and only receiving emergency cases, said its director Juan Manuel Cruz Ruíz.
The hospital won't close – we will still deal with urgent cases, and have already analysed our staffing requirements to attend to the community as our colleagues start to return to work.
Patients who were being treated for Covid-19 at the hospital will be transferred to other hospitals in the region, which is Mexico's second-poorest.
According to health workers at the hospital, the outbreak began on 21 June after the death of a patient who was not being treated for Covid-19.
Mexico has reported some 300,000 Covid-19 cases and 35,000 deaths. It has also seen several outbreaks among health workers, the most serious of which have been in Mexico City, and the states of Oaxaca, Baja California, Coahuila, and Jalisco.
China has stepped up a travel warning to Australia, telling its citizens of a risk of being searched "arbitrarily" by law enforcement authorities, Agence France-Presse reports.
Tensions between the two countries have been escalating on various fronts after Beijing reacted with fury to calls for an independent investigation into the origins and spread of the pandemic, which first surfaced in central China last year.
Apart from warning of discrimination recently, China's culture and tourism ministry advised against travelling to Australia last month due to increasing racism linked to the virus.
On Monday, the foreign ministry said that "racial discrimination and acts of violence in Australia have significantly increased", accusing Australian media of fanning the flames of anti-Chinese sentiment.
The Chinese foreign ministry's latest notice also came days after Australia offered about 10,000 people from Hong Kong pathways to permanent residency in response to China's crackdown on dissent in the city, encouraging entrepreneurs or skilled workers to relocate as well. The moves drew ire from Beijing.
"Australia's relevant law enforcement authorities arbitrarily search Chinese citizens and seize their items, and these circumstances could cause harm to Chinese citizens in Australia, as well as the safety of their assets," said the ministry.
The notice posted on the WeChat social media app also reminded Chinese citizens to "pay close attention" to local safety risks and "travel with caution to Australia in the near-term".
Responding to questions on Australia's latest announcements about Hong Kong, foreign ministry spokeswoman Hua Chunying warned at a regular briefing that Australia's moves could bring negative consequences.
We urge Australia to change its course and stop interfering in Hong Kong's affairs and China's internal affairs in any way, or risk further damage to China-Australia relations.
The technology firm Apple has told its staff a full return to US offices will not occur before the end of the year, according to Bloomberg News, which cites an internal video message.
The company is also pushing staff to work remotely as the virus forces the company to shut some of its stores again, the report added. Apple has not immediately responded to a request for comment from Reuters.
Here's a summary of recent developments:
The WHO chief Dr Tedros Adhanom Ghebreyesus warned that there would be "no return to the old normal for the foreseeable future", adding: "There are no short cuts out of this pandemic."
Hong Kong reimposed social distancing measures after a sudden spike in coronavirus infections, banning public gatherings of more than four people.
The US state of California did similar, closing down many businesses recently allowed to reopen. Its governor Gavin Newsom ordered bars to close and banned indoor restaurant dining, among other measures.
A new UN report said that coronavirus could mean an additional 130m people going hungry this year. It added that "after steadily declining for decades, chronic hunger slowly began to rise in 2014 and continues to do so".
Angela Merkel warned that a special EU summit might not be able to agree a deal on a coronavirus recovery fund, with some countries nervous that the €750bn proposals were too extravagant.
UK prime minister Boris Johnson said that people in England should wear masks in shops as an "extra insurance policy" against coronavirus. And he appeared to suggest that the government would have more to say on the subject in the coming days.
The death toll in Latin America has reached 144,758, taking it past that in the US and Canada, and leaving the region second only to Europe. A Reuters tally meanwhile found that the global number of infections has risen by 1m in five days.
In the US, the Trump administration came under fire for its apparent attempt to sideline infectious disease expert Dr Anthony Fauci for disagreeing with the president.
About 250,000 people in Manila will return to lockdown in an attempt to stall the infection rate there. The Philippines has the second highest number of infections in south-east Asia.
California's governor Gavin Newsom has ordered a massive retrenchment of the state's optimistic reopening, shutting bars and banning indoor restaurant dining statewide and closing churches, gyms and hair salons in hardest-hit counties, Reuters reports.