New Zealand 23-13 South Africa: Rugby World Cup 2019 – live reaction!
There was a furore earlier regarding a high tackle during Australia and Fiji.
Read Andy Bull's take on it:
Here is a short clip of New Zealand bowing, in true Japanese fashion, to thank the fans in Yokohama after the final whistle:
Italy take on Namibia tomorrow in this very pool and there will surely be only one winner there. Looking beyond that, Italy are the only other side in this group who can hope to trouble either NZ or SA.
South Africa face Italy on Friday 4 October, and New Zealand play them on Saturday 12 October in the final pool match for both teams. Essentially, barring some incredible occurrence, New Zealand have clinched victory in Pool B today.
Beauden Barrett was named the official Player of the Match, and he had a fine game. But how good was Cheslin Kolbe?
He made 118 metres, beat 11 defenders and made nine carries across the 80 minutes. Pretty, pretty good:
Don't forget to bookmark this page for the rest of the tournament: Our guide to the pools and results:
Here is Robert Kitson's report:
All Blacks second row Sam Whitelock, speaking to ITV's tunnel-reporting maestro Gabriel Clarke: "It was pretty tough. I know individually, I was blowing pretty hard after a couple of minutes, and it didn't stop the whole game. Every team wants to play a big game at a World Cup. It felt like it was never going to arrive [before the tournament]. But today all the boys were excited, and that showed a bit today. We were trying really hard but that's what held us back. After the first 20 we did a bit better.
"I think you've got to earn the right to go wide. Credit to those boys [South Africa], they put us under pressure. It wouldn't have been that nice watching for [All Blacks] spectators."
Bryan Habana on South Africa's performance: "There was so much encouragement in the first 20 minutes … there was a clear plan and a lot of physicality. The Boks will be disappointed, their errors at crucial times let them down. It's sort of one that got away. When you're playing at the pinnacle of the game, against the No 1 side, those margins have to be better than 99 per cent.
"Cheslin Kolbe, we need him to get his hands on the ball as much as possible, and you wonder what could have happened if he got more ball. You felt for him that he couldn't get into the game more."
Kerryn Krige emailed a while back …
"We are outside Tonteldoos a small village in South Africa, following the game thanks to your feed! Our signal is intermittent so we keep closing and re-opening the page cheering for the #springboks thank you! Kerryn and Ian."
It was a brave effort from your team today and they look well-placed to have a good run in Japan – even if they end up second in the pool. They clearly have the firepower to potentially add another World Cup to the collection.
Kieran Read: "It was a heck of a Test match."
If you missed it here is the France v Argentina report from earlier:
Paul Griffin emails:
"Two thoughts: 1) The All Blacks might see this out but the Springboks have physically dominated this contest, with awesome power and intensity. 2) I think I'm going to help myself to a second macaroon shortly."
That's interesting Paul (not so much the macaroon but hope you enjoy it). The South Africans were very physical, it's true, but the All Blacks' skills showed that will only get you so far. When they have a couple of yards, the All Blacks' backs (and forwards for that matter) are just ludicrously good at exploiting space and punishing the opposition.
When South Africa watch the tape it will be pretty easy to identify the errors that allowed New Zealand into the match. Before that, they had an absolute strangehold on proceedings. But also, it's a bit of an exaggeration to say South Africa physically dominated, in my humble opinion.
Jonny Wilkinson: "South Africa turned around the momentum after half-time, which was impressive. But they missed a couple of chances. And no team seems to dominate New Zealand in the last 20."
Sean Fitzpatrick on New Zealand's efforts: "Other than the Du Toit try, they were pretty clinical. They will go away now and build through the tournament. They have got their big game out of the way. I think everyone played pretty well … The Mo'unga and Barrett combination created opportunities, and that's what they wanted."
"Thank you New Zealand."
Hats off South Africa, too. Did we just watch a rehearsal of the final?
Thanks for all your emails, by the way. There are tonnes from all over the world. I'll try and get a few in in the next few minutes, along with some reaction from players and coaches to New Zealand's 10-point Pool B win.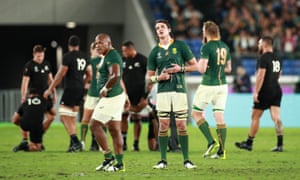 "Job done."
Wonderful match. South Africa took it to New Zealand, in both halves, but the All Blacks were probably a little more clinical, and gave up fewer penalties, and that meant they had too much in the end. As a result, it looks certain that New Zealand will top Pool B, and face the runners-up from Pool A in the quarter-finals. That could be Ireland, Scotland or even Japan. Ireland take on Scotland tomorrow so the picture will be a little clearer after that.
79 min: Defensive scrum for South Africa. They win a penalty, but time is up. Pollard has time to kick for touch, though, and they will have time to try and get over the try-line even if it's a consolation.
78 min: It's no surprise that both teams are tired and the game is breaking up a bit – but the All Blacks have retained the ball superbly well for the past three minutes. With South Africa's rush defence, it's hard to maintain the same intensity for 80 minutes. New Zealand lead by 10 and they have got over the line in this one.
77 min: Ball in hand for the All Blacks. They are closing this one out, working through the phases and making progress into the Boks' half.
75 min: Kolbe again makes a great run on the right wing, deep into the All Blacks' 22. But he's so quick, South Africa can't get support there fast enough when he's finally tackled, and New Zealand turn it over. That could be crucial. Inside the final five minutes and it's still a 10-point game. Kolbe has been one of the stars for South Africa, but you sense they needed a score from that attack if they are going to get back on terms.
74 min: Glad you're enjoying Bob!
The Boks are punished for being offside. New Zealand lead by 10. They've given up three penalties, South Africa have given up eight, and that has hurt this Boks comeback. But there is still time.
71 min: Sonny Bill Williams is charged down, trying a cross-kick from inside his own half, but the All Blacks were enjoying a penalty advantage. Meanwhile there is a break in play because try-scorer Pieter-Steph du Toit is injured. Plenty of time left in this one. Barrett is going to take on a penalty for offside …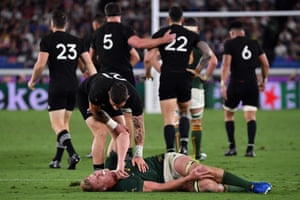 70 min: The All Blacks have taken the sting out of a spirited recovery by South Africa – just for the moment. Inside the final 10 minutes and they still have a seven-point lead. Etzebeth comes off, for RG Snyman. Barrett snipes in midfield for the All Blacks. Rassie Erasmus's side need the ball back if they are going to win.
68 min: TJ Perenara has come on for Aaron Smith for New Zealand. The All Blacks win another penalty, this time under a bit of pressure from the Boks, and they kick for touch near halfway.
Super kick. New Zealand find an answer after a lot of South African pressure, thanks to that scrum penalty, and give themselves a seven-point cushion, with 14 minutes left on the clock.
64 min: In replacements news, Trevor Nyakane, Francois Louw and Jesse Kriel are on for South Africa. New Zealand win a penalty at that aforementioned scrum and Mo'unga now has a chance to make their lead seven points instead of four.
63 min: A scrum for South Africa 10 metres inside their own half. It's reset. This could be a handy attacking position for them, and the backs await expectantly.
62 min: Thank you for reading, Cheta Nwanze:
"Following this feed from Nigeria. Rugby isn't big here. Rooting for the All Blacks. Love the haka. Crush ' em boys!"
61 min: Here is an explanation of the troubles some New Zealand fans are having, trying to watch this match:
Awesome kick. South Africa do indeed find the next score. Pollard casually, nonchalantly strokes this drop-goal over after finding a couple of seconds to take aim – a reflection of how well his team-mates had tested the All Blacks' defence in the previous phases of play. Just superb. A four-point game! Bring it on!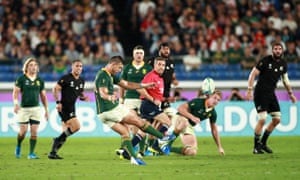 58 min: Approaching the final 20 and South Africa have come storming back into this. If they can get the next score the finale is going to be seriously nervy for both sets of fans. Who will top Pool B? South Africa have the ball in hand and go through the phases just outside the All Blacks' 22.
56 min: An email from New Zealand!
"Hi from NZ – Love this live feed as I can't watch the games right now from NZ sadly! Loving the commentary! Great work keep it up and go the All Blacks. Hannah McAlley."
We hope you find a TV for the rest of the tournament, Hannah, and thanks for reading!
52 min: Now it's really warming up. De Klerk storms down the middle of the pitch for South Africa, and off-loads to the right, to Willie Le Roux. It looked forward, but the ref didn't see it, and the crowd noise is deafening as the Boks fans roar their team back into this match. Then, the All Blacks turn it over, and Barrett chips forward on the right wing, but the Boks' defence manage to cover. End-to-end stuff. The All Blacks lead by seven.
50 min: Dane Coles off, Codie Taylor on at hooker for the All Blacks. Sonny Bill Williams has also come on for Ryan Crotty and Ofa Tuungafasi and Angus Ta'avao are also on – the entire front row has been switched by Hansen.
Hello. South Africa right back in it. Kolbe's brilliant run, which gained so much territory, pays off in the end. There is a ruck about eight metres from the All Blacks' try-line, and du Toit simply spots there is no-one behind it for New Zealand, who are more concerned with covering the try-line to the left and right. Du Toit lopes over for an easy score. And it's game on as Pollard adds the extras – that was a slightly bizarre lapse by the All Blacks and their defence coaches will be livid.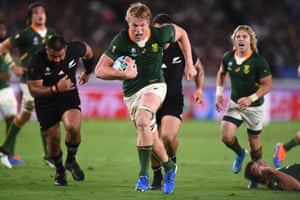 46 min: Wow! That man Kolbe, the Springbok wing, is in the thick of it again. He storms down the right wing and makes 60 metres, jinking right and left, but is denied a try by an excellent covering tackle near the corner by Mo'unga.
44 min: Kolbe fails to take a mark from an up-and-under in the 22. The All Blacks have a line-out and look to put it through the hands, but it breaks loose and Faf de Klerk hacks the ball clear.
42 min: Patrick Hebbard emails:
"Arrived in Washington DC yesterday for a week long trip to the US…Was super disappointed in my planning when every DC pub I called in the last week confirmed they were not opening up for the game. Maybe it's a good thing in the end… Thanks for the coverage! (SA supporter from London)."
Glad to be of service, Patrick. Oh! Now we've got a Mexican Wave in the stadium as the packs scrum down.
41 min: All Blacks full-back Barrett has just taken a boot in the face and has a nosebleed. It was accidental – he went low into a tackle. He is not interested in going off, though.
Here we go … Handre Pollard restarts the match. Can South Africa find a way back?
A touch of half-time analysis from the ITV nerve centre:
Paul O'Connell: "Jonny [Wilkinson] made a great point: South Africa look more excited about defence than they do about attack."
Sean Fitzpatrick: "South Africa have to take the game to New Zealand. You have to put them under pressure."
Don't forget – you can email me or tweet me, as above, with any thoughts on the match. See you in five.
And here is Paul Rees previewing Ireland v Scotland, which takes place tomorrow:
There was controversy earlier over a high tackle during Australia's Pool D win against Fiji.
Half-time reading from Andy Bull:
It was a half of two halves. South Africa ended the half making headway in the All Blacks' 22, but it ended with a knock-on, which rather sums up the way the match has gone for them to this point. The 1995 and 2007 champions raced out of the blocks in the first half in Yokohama, and New Zealand initially looked a little taken aback at the intensity with which their opponents threw themselves into it. Pollard notched an early penalty, but when a pass went astray as they sought to extend their lead, the balance of the match switched in a moment. Once New Zealand were on the board, on 22 minutes, they showcased the kinds of skills which has allowed them to win the previous two tournaments and ran in two fine tries inside five minutes – and scored 17 points in total in a five-minute burst. South Africa aren't out of it yet, though, by any stretch.
38 min: Mo'unga misses a penalty attempt. Then there's another South African knock-on. For his part, their coach Rassie Erasmus must be frustrated. His team spent 20 minutes on the front foot, but a few errors now see them with plenty of ground to make up.
37 min: The All Blacks' social media editor will be busy if they keep running in these tries.
34 min: The match is opening up now. Smith puts a high box kick up, which is claimed by Savea on the left wing, and the All Blacks then pass it right around the halfway line. It's nearly an interception for South Africa but it ends with a knock-on. That passage of play might have ended with a try for either side.
32 min: With Mo'unga at 10 and Barrett at 15, the All Blacks have terrifying options in attack. South Africa had a stranglehold on this match early, but a couple of errors have been punished in exceptional style. Steve Hansen will be liking what he sees, certainly past the 20-minute mark.
More sublime skills from the world champions, and another try, right under the posts. After dominating the first 20, South Africa are now staring at a potential hammering. It was Anton Lienert-Brown who found a few yards of space near halfway, jinked around a couple of tackles, and then found Barrett who was lurking on his right shoulder. The second-rower Barrett had a clear run in to the line and Mo'unga adds a simple conversion. South Africa need to take a breath and regather themselves.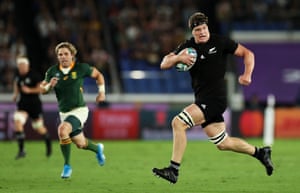 That was brilliant. Reece fields a kick and makes ground on the right wing, sprinting over halfway, then the All Blacks spin it left through Smith and Savea. Barrett then slinks into the 22 with the South African defence stretched, takes the ball into contact, and off-loads clinically to put Bridge in for the first try of the match, and of their World Cup title defence. That is what they can do.